Although our Oceans Adventures program is usually mainly directed to teens, we are offering parents and their teens and even younger children a special "family program" over the winter holiday period, December 7-28, 2017.
On our winter break Oceans Adventures for families, parents and younger children will have a wonderful time exploring the diverse tropical island country of Grenada, staying at the boutique Mount Hartman Bay Estate Hotel in the capital of St. George.  (See video here.)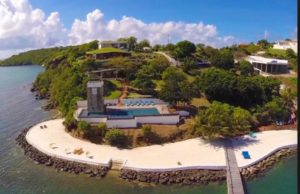 Older children will have the opportunity to go sailing with our master mariner, Captain Scott Rhoads, learning to serve as the ship's crew and partaking in sea-based adventures.  Families will join together for some daytime activities, as well as having dinner with the family and enjoying the resort's amenities including an infinity pool and private white sand beach.  (See future blog articles for the huge variety of things to do and learn about in Grenada that will please all ages!)
Everyone will also learn about the concept of Cooperative Ecology (CoEco™) – that all life forms are interdependent, and to the degree each individual co-operates (works together) with others and with the natural world, each has the best chance of living a long and healthy life.  On our trips we learn to apply this viewpoint of cooperativeness toward solutions in everything we do—including family life and choosing adventures!
Our Oceans Adventures winter break trip is an outstanding way to bring your family closer together, to do things you never do at home, and give them treasured memories for the rest of their lives.  When your children are grown and on their own, you will all fondly consider your investment in a family vacation was highly worthwhile, as validated by survey in 2013. Show your teen this article (and the hotel video) and our Oceans Adventure website and see if they'd be interested in going with the family on this winter's trip.  They will really love the awesome adventures they will have with the other teens going sailing, snorkeling, hiking, and more, and make new, lifelong friends!
Your family adventure of a lifetime awaits you!  Contact us soon to secure your spot!