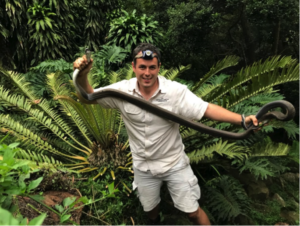 EVEN SNAKES AND SLIMEY THINGS ARE IMPORTANT
Nick Evans heads up an Earth Organization Chapter in South Africa – Amphibian & Reptile Conservation based in in KwaZulu Natal Province.  
We are sharing his work as a great example of Cooperative Ecology in action.  We realize that snakes may not be creatures you have a lot of love for, however, they serve important purposes in well balanced eco systems. When man-structures start moving onto their turf, they end up in the strangest places. Nick takes care of some of the conflicts that arise between these creatures and people. He educates communities that being fearful, reacting and killing them may not be the best solution. 
Learn about Cooperative Ecology and the great example being set here. Check out Nicks Newsletter [ddownload id="2053″]