THE ELEPHANT WHISPERER
Lawrence Anthony's almost mythological relationship with a herd of wild elephants has been inspired millions of people around the world. After bringing the traumatized and troublesome herd to his game reserve, Lawrence lived with them 24/7 for 3 weeks, staying just out of their reach outside a large corral used to acclimate them to their new home. Every day he walked around the corral and talked and sang to them, until the matriarch adopted him and the herd settled down in their new home.
The herd basically adopted him as one of their own and demonstrated levels of communication and perception with him that made it possible for them to know whenever he was away from the reserve. Every single time he returned from a trip, the herd would "magically" show up at his house that night to greet him. After not having come to his house for several months, the herd perceived it when he passed away, even though he was 300 miles away from the reserve at that time. They walked 12 miles to his home, in obvious distress, and then, as they do for other members of their herd when they pass away, they mourned him for several days.
Equally extraordinary, they have returned to his home every year for the past 4 years on the anniversary of his death.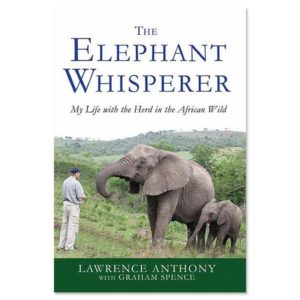 His best-selling book, The Elephant Whisperer: My Life with the Herd in the African Bush tells the story of how this remarkable relationship occurred.
Purchasing the book from us, helps forward the work we are doing to achieve the goals that Lawrence envisioned.
You can walk in the footsteps of this legendary man by joining us on one of our Eco Safaris to his Thula Thula game preserve in South Africa. More data here.